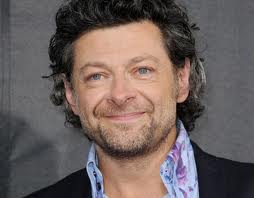 Actor Andy Serkis plays the role of Caesar. Andrew C. G. Serkis was born in Ruislip Manor, Middlesex, along with three sisters and a brother, to an English mother, Lylie, and an Iraqi-Armenian father, Clement Serkisian - a doctor working in Iraq, meaning that Serkis spent his first ten years between Baghdad and London. Serkis was educated at St Benedict's Roman Catholic School for boys, Ealing, and at Lancaster University where he studied visual art and did stage design and set building for theatrical productions, and became an activist for the Socialist Worker's Party. Serkis made his stage debut in Barrie Keefe's play Gotcha and switched from stage design to acting, and began his professional acting career in 1985 at the Duke's Playhouse in Lancaster. In the 1990s he began to make his mark on the London stage, appearing in King Lear and Mojo, earning huge critical success. Serkis made his debut on television in 1987, and acted in several major British TV miniseries throughout the 1990s.
Ad blocker interference detected!
Wikia is a free-to-use site that makes money from advertising. We have a modified experience for viewers using ad blockers

Wikia is not accessible if you've made further modifications. Remove the custom ad blocker rule(s) and the page will load as expected.