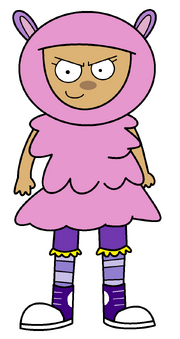 Baa Baa Sheep is a recurring character of Mother Goose Club. She is one of Carrie Underwood's henchmen and one of Baa Baa Sheep Clones in MYCUN. She soon realized that Toon Link had torn out her wool suit, shoes, and leggings into smithereens, to reveal both her underwear and her long purple hair.
Ad blocker interference detected!
Wikia is a free-to-use site that makes money from advertising. We have a modified experience for viewers using ad blockers

Wikia is not accessible if you've made further modifications. Remove the custom ad blocker rule(s) and the page will load as expected.