Bryan Guy is a character from Bryan's World that rip-offs Greeny Phatom. Everyone hates him.
He had founded his own company called Panasonic New Media in 1999, which it went defunct in 2001 due to Geo Guy rip-offs. Fortunately, his creator joined Scratch and gradually became a good user, until he became Felipebross.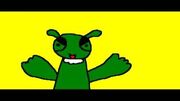 Ad blocker interference detected!
Wikia is a free-to-use site that makes money from advertising. We have a modified experience for viewers using ad blockers

Wikia is not accessible if you've made further modifications. Remove the custom ad blocker rule(s) and the page will load as expected.