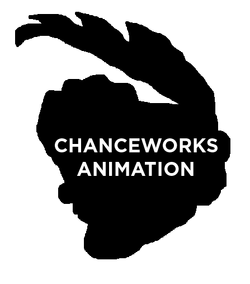 ChanceWorks Animation is an animation production company and a subsidiary of ChanceWorks Inc. founded by Jeremy Carpenter, who also owns ChanceWorks Inc., ChanceWorks Television, and ChanceWorks Pictures. The company was known for producing animated movies and TV shows.
Television shows
Edit
Chance's World (1999-present, co-production with ChanceWorks Television)
Giant Apocalypse (2013-present, co-production with Cartoon Network Studios)
The Playroom (2014-present, co-production with Glass Ball Productions)
Feature-length films
Edit
Coming soon!
Ad blocker interference detected!
Wikia is a free-to-use site that makes money from advertising. We have a modified experience for viewers using ad blockers

Wikia is not accessible if you've made further modifications. Remove the custom ad blocker rule(s) and the page will load as expected.