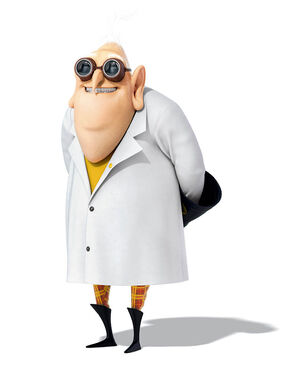 Dr. Nefario is Gru's gadgeteer residing in his underground lair and laboratories, who builds and designs most of Gru's machines. Gru and Dr. Nefario seem to have been trying to shock the world with "The True Crime of the Century" for several years. Although Nefario has doubts about Gru's plans due to lack of funds, and his new found love for his adopted daughters, he still considers him to be "one of the greats" in the supervillain world. Dr. Nefario also has terrible hearing, mistaking Gru's orders for "dart gun" and "cookie robots" as "fart gun" and "boogie robots", respectively. He is one of the tritagonists in Despicable Me and a former supporting antagonist in Despicable Me 2. He is also one of the supporting characters in MYCUN as one of Gabriel's backup friends.
Ad blocker interference detected!
Wikia is a free-to-use site that makes money from advertising. We have a modified experience for viewers using ad blockers

Wikia is not accessible if you've made further modifications. Remove the custom ad blocker rule(s) and the page will load as expected.