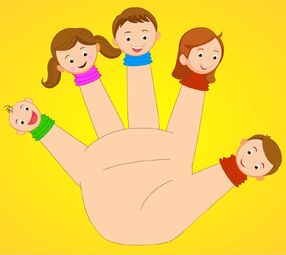 "Finger Family" (sometimes called "Daddy Finger" or "Family Finger") is one of the popular nursery rhymes about fingers with a family on it that features Daddy Finger as the thumb/first finger, Mommy Finger as the second finger, Brother Finger as the third finger, Sister Finger as the fourth finger and Baby Finger as the fifth finger.
The origin and spread of the Finger Family rhyme is currently unknown but on May 25, 2007 on the internet, Leehosook uploaded a video simply called "Finger Family" which became the very first Finger Family video ever made on YouTube. Throughout many years, there were Finger Family videos and other nursery rhyme videos uploaded on YouTube and Dailymotion around the internet at the same time.
However, most of the Finger Family videos had copyrighted characters from franchises, including Frozen, Despicable Me, Marvel and DC Superheroes, Toy Story, Cars, Mickey Mouse, My Little Pony, and others. When using licensed characters on a Finger Family video, it may not make sense but some of them make sense. For example: On a video called "FROZEN Finger Family Nursery Rhymes for Kids - MY FINGER FAMILY RHYMES", King Agnarr is the Daddy Finger, Queen Iduna is the Mommy Finger, Hiccup from How to Train Your Dragon is the Brother Finger, Princess Anna is the Sister Finger, and Agnes from Despicable Me is the Baby Finger, which doesn't make any sense at all.
During the Finger Family video years on YouTube, most of parents liked it, but some people hate it because Finger Family always "ruined good movies, shows, and video games." Also, most of the Finger Family videos and some other videos had many comments that are gibberish, which some believe that small children made the comments on the Finger Family videos on computers.
Daddy finger, Father finger, where are you?
Here I am, here I am. How do you do?
Mommy finger, Mother finger, where are you?
Here I am, here I am. How do you do?
Brother finger, Brother finger, where are you?
Here I am, here I am. How do you do?
Sister finger, Sister finger, where are you?
Here I am, here I am. How do you do?
Baby finger, Baby finger, where are you?
Here I am, here I am. How do you do?
Main article: Finger Family/Gallery
Finger Family Mystery
Edit
Appearances in the MYCUN franchise
Edit
The song itself may be referenced in MYCUN 2.
Coming soon!
Ad blocker interference detected!
Wikia is a free-to-use site that makes money from advertising. We have a modified experience for viewers using ad blockers

Wikia is not accessible if you've made further modifications. Remove the custom ad blocker rule(s) and the page will load as expected.