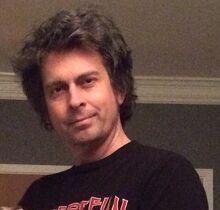 Josh Mancell (born November 13, 1969) is an American composer and multi-instrumentalist who writes music for film, television, and video games. Based in Los Angeles, Mancell is affiliated with Soundtrack Music Associates. He is best known for his work on the Crash Bandicoot and Jak and Daxter series of video games.
Mancell has received two Daytime Emmy Award nominations for his work on the children's television series, Clifford the Big Red Dog. He will compose the score for the upcoming 2017 Geo LTD. Animation film Gabriel and the Wacky Pack 3 with Mark Mothersbaugh.
Ad blocker interference detected!
Wikia is a free-to-use site that makes money from advertising. We have a modified experience for viewers using ad blockers

Wikia is not accessible if you've made further modifications. Remove the custom ad blocker rule(s) and the page will load as expected.