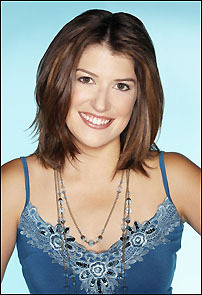 Nicole Frances Parker (born February 21, 1978) is an American actress, comedian, and singer. She is known for her work on Mad TV from 2004 to 2009.
Mad TV characters
Edit
Amy Little
Annetta Bussley
Beth
Candy Matsumoto
Charlene
Disney Girl
Elisssa
Pat-Beth LaMontrose
Sharon
Toni Horse
Tori McLachlan
Celebrity impressions
Edit
Amy Winehouse
Amy Adams (as her character Princess Giselle from Enchanted)
Ashlee Simpson
Britney Spears
Ellen DeGeneres
Fergie
Gwen Stefani
Hillary Clinton
James Blunt
Jessica Simpson
Joy Behar
Judy Garland
Julie Andrews
Kathy Griffin
Kim Kardashian
Kristin Cavallari
Lauren Conrad
Lucille Ball (as her character Lucy from I Love Lucy)
Nelly Furtado
Paula Abdul
Rachael Ray
Sarah Palin
Teri Hatcher
Vivien Leigh
Ad blocker interference detected!
Wikia is a free-to-use site that makes money from advertising. We have a modified experience for viewers using ad blockers

Wikia is not accessible if you've made further modifications. Remove the custom ad blocker rule(s) and the page will load as expected.