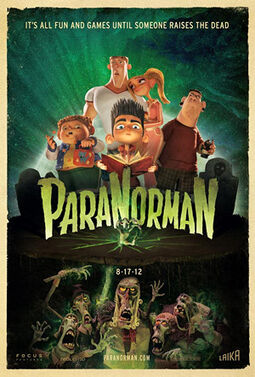 ParaNorman is a 2012 American 3D stop-motion animated horror comedy film produced by Laika, distributed by Focus Features and was released on August 17, 2012. It stars the voices of Kodi Smit-McPhee, Jodelle Ferland, Tucker Albrizzi, Anna Kendrick, Casey Affleck, Christopher Mintz-Plasse, Leslie Mann, Jeff Garlin, Elaine Stritch, Bernard Hill, Tempestt Bledsoe, Alex Borstein and John Goodman. It is the first stop-motion film to use a 3D color printer to create character faces and only the second to be shot in 3D. The film mainly received positive reviews and was a modest box office success, earning $107 million against its budget of $60 million. The film received nominations for the 2012 Academy Award for Best Animated Feature and BAFTA Award for Best Animated Film.
In the MYCUN franchise, Norman Babcock and Agatha Prenderghast appear as one of the members of the MYCUN team.
Ad blocker interference detected!
Wikia is a free-to-use site that makes money from advertising. We have a modified experience for viewers using ad blockers

Wikia is not accessible if you've made further modifications. Remove the custom ad blocker rule(s) and the page will load as expected.