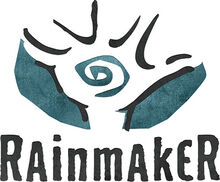 Rainmaker Entertainment, Inc. (formerly Mainframe Entertainment Inc.) is a Canadian computer animation and design company based in Vancouver, British Columbia. They are best known for producing the first ever CGI animated series ReBoot, as well as the Transformers spin-off Beast Wars: Transformers and Transformers: Beast Machines. In recent years they have also become known for producing most of the Barbie film series for Mattel.
Rainmaker Income Fund announced on August 29, 2006, that RNK Capital Limited Partnership would acquire the 38% of shares it didn't own by merging with Rainmaker Income Fund. After the merger, Rainmaker announced on January 31, 2007 that Mainframe Entertainment's name would be changed to Rainmaker Entertainment. On November 29, 2007, Rainmaker Income Fund announced the sale of Rainmaker Visual Effects and Rainmaker Post to Deluxe Entertainment Services Group, leaving only the animation business.
The current Rainmaker name and insignia was adopted from an older division, the DVD encoding company Rainmaker Digital Pictures, which encoded DVDs as early as 1997.
In 2013, Rainmaker relaunched Mainframe Entertainment as its television division, starting with a CG-animated television series, Bob the Builder.
In 2016, Rainmaker acquired American animation studio Frederator Studios and announced that they have consolidated its divisions (including Frederator) under its new holding company WOW! Unlimited Media Inc.
Ad blocker interference detected!
Wikia is a free-to-use site that makes money from advertising. We have a modified experience for viewers using ad blockers

Wikia is not accessible if you've made further modifications. Remove the custom ad blocker rule(s) and the page will load as expected.