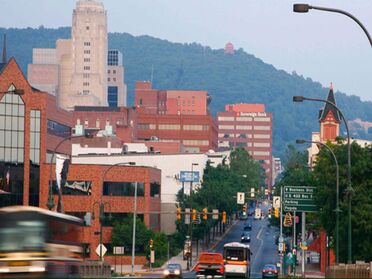 Reading (/ˈrɛdɪŋ/ red-ing), is the county seat of Berks County and with a population of 87,812 is the fifth-largest city in Pennsylvania. According to the 2010 census, Reading has the highest share of citizens living in poverty in the nation. Located in southeastern Pennsylvania, it is the principal city of the Greater Reading Area.
The city, approximately halfway between Philadelphia and the state capital at Harrisburg, is strategically situated along a major transportation route from Central to Eastern Pennsylvania, and lent its name to the now-defunct Reading Railroad, which transported anthracite coal from the Pennsylvania Coal Region to the eastern United States via the Port of Philadelphia. Reading Railroad is one of the four railroad properties in the classic United States version of the Monopoly board game.
Reading was one of the first localities where outlet shopping became a tourist industry. It has been known as "The Pretzel City", because of numerous local pretzel bakeries. Currently, Bachman, Dieffenbach, Tom Sturgis, and Unique Pretzel bakeries call the Reading area home.
Ad blocker interference detected!
Wikia is a free-to-use site that makes money from advertising. We have a modified experience for viewers using ad blockers

Wikia is not accessible if you've made further modifications. Remove the custom ad blocker rule(s) and the page will load as expected.