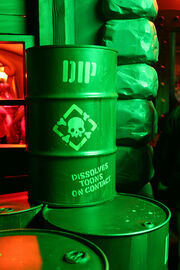 The Dip (a.k.a. Toon Acid) is a sickly green, ghastly chemical invention seen in Who Framed Roger Rabbit and MYCUN: Greenytoons Unite. It was created by Judge Doom and is feared by all Toons, as it can permanently dissolve toons on contact. It is Doom's preferred method of passing punishment, whether they are deemed innocent or guilty.
According to Lieutenant Santino, it is a mixture of turpentine, acetone and benzene; the former two being paint solvents, and the latter being a natural constituent of crude oil and one of the most basic petrochemicals. While it is relatively harmless to humans (as Eddie Valiant was seen running through an ankle-deep pool of it), any toon that comes in contact with it will melt slowly and painfully, and is apparently the only surefire way to kill a toon.
As a well-deserved poetic justice, Judge Doom ends up being melted himself near the end of the film, after revealing himself to be actually a toon. He also invented a vehicle machine called "The Dipmobile," which would have dissolved all of Toontown into oblivion. Fortunately, it was destroyed by an oncoming toon bullet train. The Dip is currently used by Gree Guy.
Ad blocker interference detected!
Wikia is a free-to-use site that makes money from advertising. We have a modified experience for viewers using ad blockers

Wikia is not accessible if you've made further modifications. Remove the custom ad blocker rule(s) and the page will load as expected.