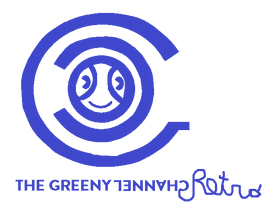 The Greeny Channel Retro is a TV channel which was launched in the summer of 2007.
The Greeny Channel was formerly airing the old episodes of their cartoons from 1988 to 2006, but later in July 2007, "Greeny Phatom" creator Robert Stainton, Gabriel Garcia, and Audel LaRoque needed to fill out every each episode of the shows on The Greeny Channel. Gabriel Garcia tells Robert Stainton that they could create a TV channel which they can air all of the older episodes of their cartoons from the 1980s through the 1990s. So they decided to make another TV Channel called  The Greeny Channel Retro where they air old episodes of their cartoons and black and white and color episodes of classic TV shows.
Beware, the Creeps
Wacky Movies of Daniel Gomez
Space Herrima
The Holy Adventures of Jesus Christ
Cuckooland
Dream Small
Snaily the Snail
DuckTales
Chip 'n Dale Rescue Rangers
Goof Troop
Disney's Adventures of the Gummi Bears
Spongebob Squarepants (1999 only)
Aladdin (1994 only)
The Andy Griffith Show
Texas Wheelers
Cannon
The Millionaire
The Mary Tyler Moore Show
Catch Bob (TGT 1997-2004)
Greeny Phatom (Season 1-3)
Various public domain cartoons
Who Framed Roger Rabbit
DuckTales the Movie: Treasure of the Lost Lamp
Aladdin
Ad blocker interference detected!
Wikia is a free-to-use site that makes money from advertising. We have a modified experience for viewers using ad blockers

Wikia is not accessible if you've made further modifications. Remove the custom ad blocker rule(s) and the page will load as expected.