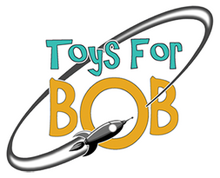 Toys for Bob is an American video game developer founded in 1989 by Paul Reiche III and Fred Ford. Although not owned by Universal Studios or Geo LTD. Animation, they developed video games based on Gabriel and the Wacky Pack and Geo.
Ad blocker interference detected!
Wikia is a free-to-use site that makes money from advertising. We have a modified experience for viewers using ad blockers

Wikia is not accessible if you've made further modifications. Remove the custom ad blocker rule(s) and the page will load as expected.