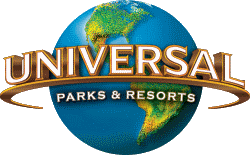 Universal Parks & Resorts, commonly and also known as Universal Studios Theme Parks or solely Universal Theme Parks, is the theme park subsidiary of NBCUniversal, a division of Comcast. The subsidiary, headquartered in Orlando, Florida, US, operates Universal theme parks and resort properties around the world. Universal Parks & Resorts is best known for attractions and lands based on famous classic and modern pop culture properties (movies, television, literature, cartoons, comics, video games, music, etc.) from not only NBCUniversal but also other companies.
The theme parks were owned by Seagram through the ownership via Universal Studios.
In 2014, approximately 40.1 million guests visited Universal Studios theme parks, making it the third-largest amusement park operator in the world. It is a major competitor of Walt Disney Parks and Resorts, SeaWorld Entertainment, and Merlin Entertainment.
Theme parks and resorts
Edit
Universal PortAventura, Salou, Spain (1997–2004)

Costa Caribe Aquatic Park, Salou, Spain (2002–2004)
These projects have been announced or are currently under construction.
Volcano Bay, Orlando, Orlando (Opens 2017) Construction was already underway when Universal Orlando officially announced the project, and its name, on May 28, 2015.
Universal Studios Beijing, Beijing, China (Opens 2019)
Universal Studios South Korea (Opens 2020)
Universal Studios Moscow, Moscow, Russia (Opens 2022)
Cancelled
Edit
Universal Studios Dubailand, Dubai, United Arab Emirates (on-hold) (Broke ground 2008, no construction since 2009)
Ad blocker interference detected!
Wikia is a free-to-use site that makes money from advertising. We have a modified experience for viewers using ad blockers

Wikia is not accessible if you've made further modifications. Remove the custom ad blocker rule(s) and the page will load as expected.