VerniX Animation Studios is an American animation studio that creates CGI animated feature films, founded by Michael Wildshill in 1993. The studio is a division of Geo LTD., which is a subsidiary of NBCUniversal, a division of Comcast. The studio is best known for its films The Autism Problem, MYCUN, and 3 Simple Doods and 1 Simple Doodette.
VerniX was formed in 1993 by Michael Wildshill as a joint venture between Universal Studios and Geo G's Glass Ball Productions. The studio closed in 2002, after the financial failure of their first film, The Autism Problem. However, in 2012, VerniX was later acquired and re-opened by Geo LTD. and currently operates as a division of Geo LTD. Animation.
VerniX's films are often marketed and distributed by Geo LTD's parent company Universal Pictures. Additionally, VerniX would not only make films for just Universal, but also other studios such as 20th Century Fox, Columbia Pictures and Lionsgate.
Founding: 1993–2000
Edit
The company was designed to compete with Pixar Animation Studios, which had phenomenal success during the late 1990s and early 2000s with the releases of films such as Toy Story (1995), A Bug's Life (1998), Toy Story 2 (1999), and Monsters, Inc. (2001).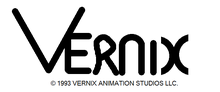 Productions and closure: 2001–02
Edit
VerniX Animation Studios did not achieve the same level of success as Pixar's animated crop. Its first and only feature film The Autism Problem (2001) got mixed reviews and was a costly flop, losing $100 million for Universal Pictures.
Almost a year before The Autism Problem, Universal laid off 300 of the 380 people who worked at VerniX in order to "make films more efficiently." On January 3, 2002, the company announced that it was shut down and some of the VerniX staff went on to join Geo LTD. Animation the following month. Their second film set to be made would have been based on the Marvel Comics superhero team Big Hero 6, and it was later reworked as a Disney animated film in 2014.
Revival: 2012–present
Edit
In February 2012, ten years after the studio's closure, it was announced that Geo LTD. had officially acquired and revived VerniX Animation Studios, which it operates as a division of Geo LTD. Animation. It was also announced that VerniX would no longer produce future family-friendly films, but will instead focus on mature films and some films aimed at late teens and adults. In addition, it was also announced that MYCUN, a crossover spin-off to the Gabriel and the Wacky Pack franchise, was VerniX's first film in 15 years since The Autism Problem and was released on December 11, 2015 by Universal Pictures. It received mixed reviews from critics, but was a box office success. Following this success, VerniX immediately planned for a sequel.
On July 21, 2015, NBCUniversal announced it would be acquiring Geo LTD. for $7.4 billion. The sale was completed on December 9, 2015.
Filmography
Edit
Feature films
Edit
Released films
Upcoming films
Films in development
Short films
Edit
Coming soon!
Television series
Edit
Coming soon!
Ad blocker interference detected!
Wikia is a free-to-use site that makes money from advertising. We have a modified experience for viewers using ad blockers

Wikia is not accessible if you've made further modifications. Remove the custom ad blocker rule(s) and the page will load as expected.