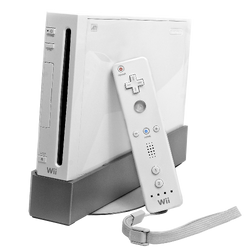 The Wii (pronuced wee) is a home video game console released by Nintendo on November 19, 2006. As a seventh-generation console, the Wii competed with Microsoft's Xbox 360 and Sony's PlayStation 3. Nintendo states that its console targets a broader demographic than that of the two others. As of the first quarter of 2012, the Wii leads its generation over PlayStation 3 and Xbox 360 in worldwide sales, with more than 101 million units sold; in December 2009, the console broke the sales record for a single month in the United States.
Geo G. games
Edit
Coming soon!
Cancelled games
Edit
Coming soon!
Other media
Edit
Coming soon!
Coming soon!
Coming soon!
Ad blocker interference detected!
Wikia is a free-to-use site that makes money from advertising. We have a modified experience for viewers using ad blockers

Wikia is not accessible if you've made further modifications. Remove the custom ad blocker rule(s) and the page will load as expected.